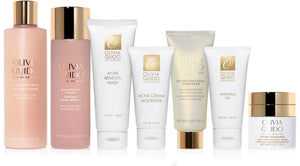 Complete Acne Solution
Regular price
Sale price
$453.00
---
Fight mild to severe acne safely and effectively as you pamper your way to beautifully flawless skin. This 7-piece kit includes everything you need to clear your skin from blemishes and achieve a smooth, even-toned radiance!
The Benzoyl Wash, Acne Cream and Hydrating Gel work together to exfoliate, clear and calm the skin promoting optimum healing. Balancing Toner and Cleansing Milk help cleanse and reset, keeping skin hydrated and preventing over drying. Finally, Olivia's Secret Radiance targets redness and discoloration to brighten, smooth and soften the skin for that radiant O Skin Glow. 
Benefits
| | | |
| --- | --- | --- |
| TARGETS ACNE | SOOTHING | BRIGHTENING |
Details
Kit Contents:

Acne Benzoyl Wash

Acne Cream Moderate

Cleansing Milk

Balancing Toner

Hydrating Gel

Broad Spectrum Sunscreen SPF 50

Secret Radiance
Oily, Problematic Skin
How To Use
Acne Benzoyl Wash: Squeeze a small amount of product (quarter-sized) into hands. Gently massage into skin using circular upward motions for 20 seconds. Rinse thoroughly and pat dry. For PM use only.*
Acne Cream Moderate: Cleanse skin thoroughly before applying. Gently pat a thin layer over blemishes. Use once per day. Use a sunscreen while using this product.
Cleansing Milk: Wet face. Squeeze product into hands. Gently massage into face, neck, and décolleté using circular upward motions. Follow with a splash of lukewarm water. Rinse throughly and pat dry. Can be used AM and PM.
Balancing Toner: Apply after cleansing with a cotton ball. Using upward strokes, smooth over face, neck, and décolleté. Can be used AM and PM.
Hydrating Gel: Apply once daily in the AM after cleansing and toning as part of the Olivia Quido Clinical Regimen.
SPF 50: Apply liberally to face, neck and décolleté to protect skin from UV rays indoors and outdoors 15 minutes before sun exposure. Reapply at least every two hours. Use a water-resistant sunscreen if swimming or sweating.
Secret Radiance: Apply 3 pumps to face at bedtime. If using with Secret Glow or Secret Gold, apply 5x a week on the nights you are not masking. 
Note: Before using, test on a very small area of the jaw line for 2 days. If there is redness and swelling, please discontinue use. Because excessive drying may occur, start with once daily application. If dryness or peeling becomes bothersome, reduce application to every other day. Do not use if you are allergic to Benzoyl Peroxide or have sensitive skin. Ask a doctor before use if you are using other topical acne medications.
ACNE COLLECTION
The Complete Acne Solution
Everything you need to fight mild to severe acne safely and effectively while smoothing and brightening for clear, even-toned radiance.
Step 1: Calm With Cleansing Milk (AM)
Prep the skin with this gentle cleanser to wash away any impurities. Use AM.

Step 2: Balance With Toner (AM/PM)
Ensure skin is hydrated and restored to natural pH balance. Use AM & PM after cleansing.
Step 3: Soothe With Hydrating Gel (AM/PM)
Help soothe dryness and accelerate skin healing. Use AM.
Step 4: Treat With Acne Cream (AM/PM)
Low concentration Benzoyl Peroxide effectively targets acne without over drying. Use AM & PM.
Step 5: Protect With SPF 50 (AM)
Treatments make skin more sun sensitive. Protect scaring with broad spectrum SPF. Use all day.

Step 1: Clear With Benzoyl Wash (PM)
Use nightly to target breakouts. Follow with Toner, Acne Cream + Secret Radiance. PM only.
Step 5: Glow With Secret Radiance (PM)
Peptides and botanicals provide powerful antioxidant and anti-aging benefits to minimize fine lines and wrinkles. Use PM
FAQs
I don't know what regimen is best for me.
No problem! Make an appointment to visit us either in the spa or virtually by visiting www.radaintbelle.ca
Should I do a patch test when first using Acne Benzoyl Wash?
Yes. Apply using cotton swabs (Q-tip) on a very small area of the jawline for 2 days. If there is no allergic reaction, start applying the product all over the face. If there is swelling, please discontinue use.
What side effects should I expect from Benzoyl Peroxide?
The most common side effects are dryness, itching, mild irritation, as well as light peeling and redness. You should always start with a patch test to make sure you do not have a more serious reaction. You should avoid using Benzoyl Peroxide with other medications that dry out or irritate your skin. You should consult a doctor for any concerns or severe reactions.
Should I avoid moisturizing since I have oily / acneic skin?
No! Applying a moisturizer like our Hydrating Gel or Active Moisturizer can help relieve some of the common side effects of using Benzoyl Peroxide.
Does everyone need a toner?
Yes! After cleansing the skin the pH is typically down to 3. A toner helps neutralize the skin back to a natural balance of 5.5 pH. This helps prepare the skin for better absorption of your treatment products.
Won't toner make my skin more dry?
No, this is an alcohol-free toner that is designed to help restore moisture and balance to the skin.
Does this sunscreen help protect against Blue Light damage?
Yes, the ingredients Zinc Oxide and Titanium Dioxide help fight skin aging by protecting the skin from the free radicals in blue light.
What makes Secret Radiance different from the night cream I'm currently using?
The reparative, natural extracts in this luxurious cream not only help fight against the signs of aging, they also help to target dark spots and unwanted pigm