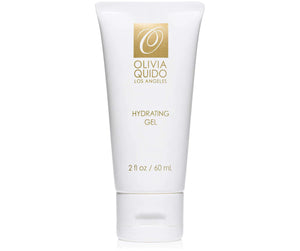 Hydrating Gel
Regular price
Sale price
$67.00
---
SOOTHING, HYDRATING, HELPS ELASTICITY
This soothing botanical moisturizer is formulated with Ginseng, Marshmallow Root and rare Marine Extracts to promote collagen, soothe redness and deeply hydrate.
Gentle enough for all skin types, this soothing hydrator was formulated to help calm and protect skin after more aggressive treatments like peels and acne regimens.
KEY INGREDIENTS
Calming + Balancing Botanicals
An oil-free blend of botanicals to help soothe and balance while protecting the moisture barrier. Perfect for calming the skin after acne treatments.
Algae
Helps slow the aging of skin due to harmful UV rays and accelerates skin healing process.
Ginseng Root
Moisturizing with high levels of phytonutrients that help fight the negative effects of sun.
Witch Hazel
A natural astringent that helps dry out acne blemishes and minimize redness and scarring.
Bladderwrack Extract
Seaweed rich in vitamins, minerals, and antixidants, used to calm, soothe and protect the skin.
Aloe Leaf Juice
A natural anticeptic that promotes healing from breakouts as well as moisurizing and soothing benefits.
Marshmallow Root
Calms the skin with instant hydration and also helps the skin to retain moisture.
FAQs
What skin types is this best for?
This water-based, oil-free gel moisturizer is ideal for oily, blemish prone skin to normal skin.
What is the difference between a gel moisturizer and cream moisturizer?
Gel moisturizers are designed to help release ingredients from skin's deeper layers and bring it to the skin's surface. Traditional moisturizers typically create a barrier on the skin's surface that locks moisture in.