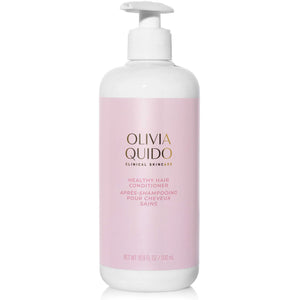 Healthy Hair Conditioner
Regular price
Sale price
$25.00
---
HYDRATING, SMOOTHING, RESTORATIVE
Treat yourself to radiant, soft and luminous hair. Rich, restorative keratin, wheat protein, tucuma seed butter, and safflower oil work together to repair, strengthen and protect the strands, preventing breakage and keeping the hair full and soft. This rich hydration is balanced with a blend of 7 high-performance botanicals that work as a toner to eliminate excess oil or weight while adding brightness for hair that is full of body and shine.  Use it regularly to keep your hair hydrated without weighing it down.
A reparative conditioner perfect for acne-prone skin.
KEY INGREDIENTS
High-Performance Botanicals
Enriched with reparative proteins, amino acids, butters + botanical extracts for strong, healthy, vibrant hair.
Hydrolyzed Keratin
Softens, protects and reduces damage by sealing the hair and strengthening its structure.
Wheat Protein
Strengthens the hair strands preventing breakage and adds moisture and shine.
Tucuma Butter
A natural hydrator with high levels of fatty acids to hydrate, smooth, and soften hair.
Chamomile
Known to brighten hair, prevent split ends and add more vibrancy and shine.
Lemon Balm
Helps maintain fullness by acting as a toner to refresh and balance excess oil or irritation.
Aloe Vera
Can contribute to cellular turnover which repairs and strenghtens hair strands.
FAQs
Should all hair types use conditioner?
Yes, all hair types benefit from using conditioner. It softens and smoothes hair helping manage static, tangles, and flyaways. It replenishes moisture and restores hair's natural oil balance. It also helps prevent breakage and protects against environmental stressors.
How often should conditioner be used?
It is recommended to condition your hair every time you shampoo.
Is it possible to use too much conditioner?
Yes, conditioning hair too much can make hair appear flat, thin and feel tacky. Experiment with different amounts depending on your hair type to find what works best.