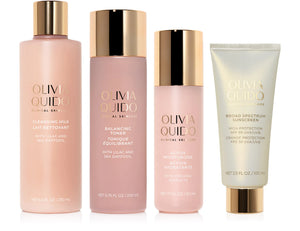 Daily Essentials Kit
Regular price
Sale price
$210.00
---
Bring skin's clarity and moisture barrier to maximum glow with Olivia's Essential regimen, designed to gently counterbalance high-powered treatment products or services that can be disruptive to the skin. Cleanse, Tone, Moisturize and Protect are the most essential steps to caring for your skin.

These four must-haves give your skin a balanced foundation for a healthy, spot-free glow with high-performance botanicals that gently brighten, smoothe, hydrate and lock in moisture plus a powerful SPF to protect from unwanted dark spots and premature aging.
Benefits
| | | |
| --- | --- | --- |
| HYDRATING | RESURFACING | PURIFYING |
Details
Kit Contents:

Cleansing Milk
Balancing Toner
Active Moisturizer
Broad Spectrum Sunscreen SPF 50
All Skin Types
How To Use
Cleansing Milk: Wet face. Squeeze product into hands. Gently massage into face, neck, and décolleté using circular upward motions. Follow with a splash of lukewarm water. Rinse throughly & pat dry. Can be used AM and PM.

Balancing Toner: Apply after cleansing with a cotton ball. Using upward strokes, smooth over face, neck, and décolleté. Can be used AM and PM.

Active Moisturizer: Apply to face, neck, and back of hands after cleansing and toning skin AM. Use daily as part of the Olivia Quido Clinical Regimen.

SPF: Apply liberally to face, neck and décolleté to protect skin from UV rays indoors and outdoors 15 minutes before sun exposure. Reapply at least every two hours. Use a water-resistant sunscreen if swimming or sweating.
A Balanced Foundation for a Clear, Healthy Glow
A restorative daily reset that helps maintain skin's moisture barrier while building collagen and brightening for a naturally radiant glow.
Step 1: Cleansing Milk (AM/PM)
Prep the skin with this gentle cleanser to wash away any impurities. Use AM & PM.
Step 2: Balancing Toner (AM/PM)
Ensure skin is clear, hydrated and restored to natural pH balance. Use AM & PM.
Step 3: Active Moisturizer (AM)
Hydrate to help soften skin, soothe dryness and restore moisture balance. Use AM.
Step 4: Sunscreen SPF 50 (AM)
Treatments will make your skin more reactive to sun. Protect with a high level broad spectrum SPF. Use all day.
FAQs
Should I use a makeup removing cleanser before I start the regimen?
No! You can apply this cleanser to dry skin and wipe cloth or tissue remove impurities. Then apply more cleanser with a small amount of water for a deeper clean.
I have oily skin - should I avoid this regimen?
No! If you're prone to breakouts simply filter in a purifying cleanser or acne treatment cleanser, like our Acne Benzoyl Wash, a few times a week to deep clean pores. Just be careful not to use them too frequently or you may dry out your skin.
Does everyone need a toner?
Yes! After cleansing the skin the pH is typically down to 3. A toner helps neutralize the skin back to a natural balance of 5.5 pH. This helps prepare the skin for better absorption of treatment products
Won't toner make my skin more dry?
No, this is an alcohol-free toner that is designed to help restore moisture and balance to the skin.
What do the AHAs and BHAs in Active Moisturizer do for my skin?
AHAs and BHAs exfoliate the skin, decrease inflammation and improve skin tone and texture.
I work inside - do I really need a daily SPF?
Yes! UV rays can pass through windows so a daily sunscreen is recommended.
I live in a cloudy climate, do I need sunscreen year round?
Yes! Even when it isn't sunny outside, UV rays are still present and can damage skin.
Does this sunscreen help protect against Blue Light damage?
Yes, the ingredients Zinc Oxide and Titanium Dioxide help fight skin aging by protecting the skin from the free radicals in blue light.