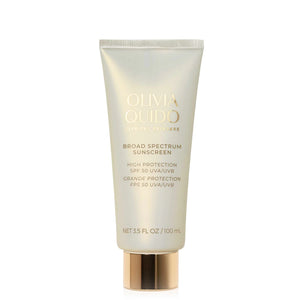 Broad Spectrum Sunscreen SPF 50 with Lilac Stem Cell
Regular price
Sale price
$67.00
---
KEY INGREDIENTS
High Protection + Skincare Benefits
Daily protection is the key to brighter, younger skin. Formulated like skincare as part of your morning regimen.
Octinoxate
Absorbs UV rays before they can penetrate deep enough to damage the skin.
Zinc Oxide
Creates a barrier by reflecting rays from the sun so they are not absorbed into the skin.
Sea Daffodil
Helps inhibit the production of melanin to prevent sun spots, melasma or other irregular pigmentation.
Titanium Dioxide
Helps protect skin by blocking harmful ultraviolet rays from the sun. Non-comedogenic and gentle on skin.
Lilac Stem Cell
Displays antimicrobial and anti-inflammatory properties making it ideal for anti-aging and skin DNA repair.
Glycerin
Known for its supreme skin hydrating properties and used to lock in and replenish skin's moisture.
FAQs
I work inside - do I really need a daily SPF?
Yes! UV rays can pass through windows so a daily sunscreen is recommended.
I live in a cloudy climate, do I need sunscreen year round?
Yes! Even when it isn't sunny outside, UV rays are still present and can damage skin.
Does this sunscreen help protect against Blue Light damage?
Yes, the ingredients Zinc Oxide and Titanium Dioxide help fight skin aging by protecting the skin from the free radicals in blue light.