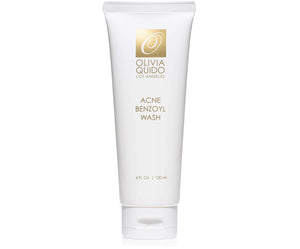 Acne Benzoyl Wash
Regular price
Sale price
$58.00
---
Acne Benzoyl Wash
TARGETS ACNE, RESURFACING, CLEARING
Help cleanse and clear skin suffering from mild to severe acne with this gently exfoliating Benzoyl Peroxide wash that helps control sebum, remove dead skin cells, and unclog pores. Formulated with coconut surfactants to be gentle on the skin.
Benefits: Targets Acne. Resurfacing, Clearing
Details:
Specially formulated acne wash with exfoliating beads to remove dead skin cells, debris, and unclog pores. Helps prepare skin for better absorption of Acne Cream.
Oily, Problematic Skin
How To Use
Wet face. Squeeze a small amount of product (quarter-sized) into hands. Gently massage into skin using circular upward motions for 20 seconds. Rinse thoroughly and pat dry. For PM use only. Use daily as part of the Olivia Quido Clinical Regimen.
Use a sunscreen while using this product. Note: Before using, test on a very small area of the jaw line for 2 days. If there is redness and swelling, please discontinue use.
Caution: Do not use if you are allergic to Benzoyl Peroxide or have sensitive skin. Ask a doctor before use if you are using other topical acne medications.
Ingredients
Active Ingredient: Benzoyl Peroxide 2.5%
Inactive Ingredients: Water, Sodium Methyl-2 Sulfolaurate, Cocamidopropyl Hydroxysultaine, Sodium Lauryl Sulfoacetate, Cocamidopropyl Betaine, Disodium 2-Sulfolaurate, Decylglucoside Polyethelene, Soyamidopropyl-Dimethylamine Oxide, Caprylhydroxamic Acid, Phenethyl Alcohol, Glycerin
FAQs
Should I do a patch test when first using this product?
Yes. Apply using cotton swabs (Q-tip) on a very small area of the jawline for 2 days. If there is no allergic reaction, start applying the product all over the face. If there is swelling, please discontinue use.
Who should use Benzoyl Peroxide?
Benzoyl peroxide works especially well for inflammatory acne but is helpful for all acne disorders.
What side effects should I expect?
The most common side effects are dryness, itching, mild irritation, as well as light peeling and redness. You should always start with a patch test to make sure you do not have a more serious reaction. You should avoid using Benzoyl Peroxide with other medications that dry out or irritate your skin. You should consult a doctor for any concerns or severe reactions.
Should I avoid moisturizing since I have oily / acneic skin?
No! Applying a moisturizer like our Hydrating Gel or Active Moisturizer can help relieve some of the common side effects of using Benzoyl Peroxide.
Will my skin be sensitive to the sun when using Benzoyl Peroxide?
Yes. Like many products that treat acne, Benzoyl Peroxide also makes your skin more susceptible to burns. Make sure you use a daily Broad Spectrum sunscreen while using this product.