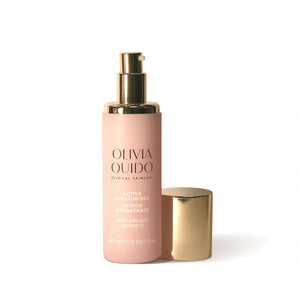 Active Moisturizer with organic extracts
Regular price
Sale price
$67.00
---
 Active Moisturizer
Adding product to your cart
HYDRATING, SOOTHING, RESURFACING
This lightweight moisturizer uses an antioxidant-rich botanical blend to lock in moisture, leaving skin soft and hydrated. Formulated with AHAs and BHAs, Vitamin C and Apple Stem Cells to improve skin tone and texture and promote collagen production.
Benefits
HYDRATING SOOTHING    RESURFACING
Details
A lightweight, non-comedogenic, and quick-absorbing hydrator with high-performance botanicals to help soften skin and soothe dryness. Formulated with an AHA and BHA blend along with Vitamin C and Apple Stem Cells, this active moisturizer also works to improve skin tone and texture by lightly exfoliating, stimulating collagen production and slowing the aging cycle of skin cells.
All Skin Types - this hydrator is gentle enough for all skin types and can layer well with other treatments. Active Moisturizer is an essential step to all Olivia Quido regimens.
How To Use
Apply to face, neck, and back of hands after cleansing and toning skin in the AM. Use daily as part of the Olivia Quido Clinical Regimen.
Sun Alert: This product contains an alpha and beta hydroxy acid (AHA, BHA) that may increase your skin's sensitivity to the sun or the possibility of sunburn. Wear sunscreen and a hat when using this product.
Ingredients
Aqua, Caprylic/Capric Triglyceride, Glycerin, Sorbitol, PEG-100 Stearate, Glyceryl Stearate, Cyclopentasiloxane, Glycol Stearate, Stearic Acid, Sodium Hydroxide, Sodium PCA, Panthenol, **Squalane, *CO Glycerin, Malus Domestica Fruit Cell Culture Extract, Citric Acid, Lactic Acid, Malic Acid, Ascorbic Acid (Vitamin C), Gluconic Acid, *CO Humulus Lupulus (Hops) Extract, *CO Lavandula Angustifolia (Lavender) Flower/Leaf/Stem Extract, *CO Calendula Officinalis Flower Extract, *CO Chamomilla Recutita (Matricaria) Flower Extract, *CO Citrus Limon (Lemon) Peel Extract, *CO Cucumis Sativus (Cucumber) Seed Extract, *CO Camellia Sinensis Leaf Extract, *CO Pyrus Malus (Apple) Fruit Extract, *CO Spirulina Platensis Extract, Glycolic Acid, Xanthan Gum, Salicylic Acid, Tartaric Acid, Lecithin, Tocopheryl Acetate (Vitamin E), Retinyl Palmitate (Vitamin A), Disodium EDTA, Carbomer, Phenoxyethanol, Ethylhexylglycerin, Fragrance
*CO Certified Organic
**From Sugarcane
KEY INGREDIENTS
High-Performance Botanical Blend
Enriched with seven botanical extracts and natural plant milks leaving the skin soft and hydrated.
Apple Stem Cells
Shown in studies to help delay the aging of epidermis skin cells and visibly reduce wrinkles.
Organic Hops Extract
Works to soften skin and improve collagen production to minimize wrinkles and dark spots.
AHA and BHA Blend
These exfoliating acids promote cellular turn over and help to restore skin's natural pH levels.
Japanese Green Tea
A superb source of antioxidants which assist in reducing the aging effects of the skin.
Squalane & Glycerin
Known for their supreme skin hydrating properties and used to lock in and replenish skin's moisture.
Ascorbic Acid Vitamin C
A source of Vitamin C that absorbs well and works to stimulate collagen production.
FAQs
What do AHAs and BHAs do for my skin?
AHAs and BHAs exfoliate the skin, decrease inflammation and improve skin tone and texture.
What are AHAs and BHAs?
AHA (Alpha Hydroxy Acid) is a water-soluble acid derived from fruits. BHA (Beta Hydroxy Acid) is an oil-soluble acid derived from bark and leaves.
Why do I need both AHAs and BHAs?
AHAs gently exfoliate and smooth the skin while staying on the surface of the skin. They are perfect for targeting fine lines, uneven skin tone, hyperpigmentation and melasma. BHAs can get deeper into the pores since they are oil-soluble. These types of acids are perfect for targeting dead skin cells and excess sebum that causes acne.