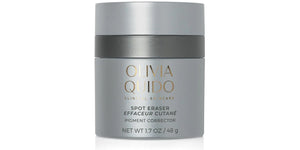 Spot Eraser
Regular price
Sale price
$160.00
---
AGE SPOTS, ACNE MARKS, DARK SPOTS
A potent spot eraser power packed with Kojic Acid, Tranexamic Acid, Vitamin C, Niacinamide and Retinol to visibly fade patches of discoloration by targeting age spots, sun spots, and discoloration caused by acne. This multi-level formula helps prevent the formation of dark spots while actively fading existing patches. Used consistently, these actives work together to even skin tone and diminish the look of stubborn spots and patches for a brighter, more even complexion!
KEY INGREDIENTS
Powerful Pigment Correctors
Three unique blockers that help prevent dark spots from forming combined with three of the most effective ways to fade hyperpigmentation & boost brightness.
Kojic Acid
A Natural skin brightener that helps inhibit an enzyme needed for melanin production.
Tranexamic Acid
Prevents dark spots by blocking UV rays and decreasing the skin's sensitivity to UV damage.
4-Butylresorcinol
Works against unwanted spots by acting as an inhibitor that blocks melanin production.
Niacinamide
A form of Vitamin B-3 that helps lighten dark spots, treat hyperpigmentation, redness and breakouts.
Retinol
A form of vitamin A that increases cell turnover to help improve skin tone, texture, clarity and brighteness.
THDC
A highly stable form of Vitamin C that gently reduces the appearance of dark spots and uneven tone.
FAQs
Should I do a patch test before using this product
Yes. Before using, test on a very small area of the jaw line for 5 days. If there is redness and swelling, please discontinue use.
Is it ok to use a spot treatment while using Spot Eraser?
Yes. Spot Eraser is meant to be used as a facial treatment to treat and prevent acne, not as a spot treatment. If you need to spot treat, try our Acne Cream.
I thought retinol was for wrinkles?
In addition to boosting collagen production for firmer skin while smoothing fine lines and wrinkles and treating hyperpigmentation, retinol works as a natural exfoliant by encouraging cellular turnover. It also helps inhibit oil production and decrease inflammation leading to breakouts.
Is it normal for my skin to feel dry after using this product?
Your skin may feel dry and flaky as it adjusts to the level of retinol. If you start to see flaking, reduce your frequency until your skin adjusts and then ramp up again. Be sure to layer with a moisturizer. Try our Hydrating Gel and don't forget your sunscreen!